Cosmetic Dentistry in North Attleborough & Swansea
---
---
508 Dentist provides cosmetic dentistry in North Attleborough & Swansea, MA. Call 508-336-8478 to learn more and schedule an appointment.
---
North Attleborough & Swansea Cosmetic Dentistry
---
As an experienced cosmetic dentist, we offer cosmetic services that make it possible for our patients to have the beautiful smile they have always wanted using a variety of modern dental techniques. 508 Dentist is committed to high-quality patient care and works to ensure that patients are comfortable during their procedures and delighted with the results. 
508 Dentist takes the time to get to know each patient and the goals that they have for their smile. This often involves correcting a problem with how a particular tooth, or teeth, appear. Thanks to modern dental techniques, we can help patients accomplish these goals in a way that is painless while producing dramatic results. Gone are the days where people have to live with a smile that they don't like or are embarrassed to show off. Even people with severe stains, crooked, damaged teeth, and gaps can experience the stunning transformations available when working with 508 Dentist.
We work with adults of all ages and commonly hear that older patients feel like it is too late to improve their smile. This couldn't be further from the truth. Seniors frequently use our services and are delighted to find that there are many ways to restore their damaged teeth and replace missing ones. While, in years past, there may have been very few options available for replacing missing teeth, cosmetic dentistry has opened the door to solutions that are permanent, durable, and natural looking.
---
Procedures used alone or in combination to create beautiful smiles include:
Teeth will naturally lose their brightness over time. Drinking coffee or tea, or using tobacco, as well as certain childhood medications can cause teeth to discolor or darken even faster than normal.
Whitening, also known as bleaching, is the procedure used to brighten teeth. There are two different ways to achieve a desired whiter smile: In-Office Bleaching and At-Home Bleaching.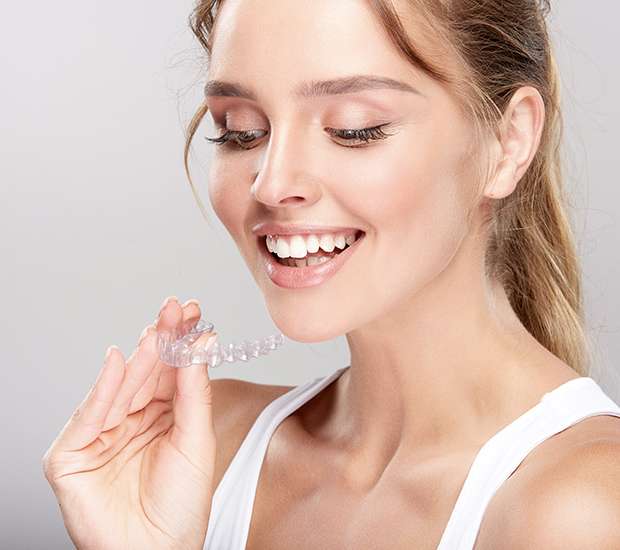 Invisalign® takes a modern approach to straightening teeth, using a custom-made series of aligners. These aligner trays are made of smooth, comfortable, and virtually invisible plastic that you wear over your teeth. Wearing the aligners will gradually and gently shift your teeth into place, based on the exact tooth movements our office plans out for you. There are no metal brackets to attach and no wires to tighten. You just switch to a new set of aligners approximately every two weeks, until your treatment is complete. You'll achieve a great smile with little interference in your daily life. The best part about the whole process is that most people won't even know that you're straightening your teeth.
An expert veneers dentist, 508 Dentist provides dental veneers that help restore damaged teeth or transform our patients' smiles. 
Porcelain veneers are thin pieces of porcelain used to recreate the natural appearance of teeth. To place a veneer, a thin layer of the original tooth enamel must be removed. Afterward, an adhesive layer is placed between the prepared tooth and the veneer. The adhesive is then hardened with the use of a specialized curing light.
Cosmetic bonding is the process of filling or restoring teeth with a tooth-colored material in order to improve a tooth's appearance. In order to bond a tooth, composite material is added to the tooth structure to adjust the size, shape, or color of the existing tooth.
This technique can minimize or eliminate stains, yellowing or spots by removing a very thin layer of the tooth's enamel.
---
Cosmetic Services May Also Include:
---
Voted Best Cosmetic Dentist
508 Dentist's founder and CEO, Dr. Lepine, has been repeatedly recognized among the best dentists in America. Dr. Lepine received the prestigious honor of America's Top Dentist from the Consumers' Research of America,  was awarded Best Cosmetic Dentist by the Cambridge Who's Who and the Presidential Who's Who, and he was inducted as a Master of the International Dental Implant Association for his work and research in implant dentistry. View Dr. Lepine's bio and awards here.
Call 508-336-8478 to schedule an appointment.
FAQ About Cosmetic Dentistry
---
What is cosmetic dentistry?
Cosmetic dentistry refers to any dental procedure that improves the appearance of the teeth. Examples include teeth whitening, veneers, Invisalign, cosmetic bonding, crowns, bridges, dental implants, and more.
---
What issues can cosmetic dentistry correct?
Cosmetic dentistry can correct a variety of aesthetic problems such as misaligned teeth, gaps, discoloration, cracks, chips, and more. Procedures can be done to correct these issues and improve the appearance of a patient's teeth. Some procedures are permanent, others are temporary.
---
Can cosmetic dentistry also improve my dental health?
Yes. Cosmetic procedures, while geared towards improving the smile, can also restore the health of your teeth and mouth. For example, Invisalign shifts the teeth into proper alignment, which not only improves your smile, but also promotes the health of your teeth and jaw.
---
Does insurance cover cosmetic dentistry?
Generally speaking, insurance does not typically cover cosmetic dental procedures. However, if there is a dental or medical health concern that the procedure will address, it may be covered in that case. For example, dental crowns can improve the appearance of the teeth, but they are also used to restore a cracked or damaged tooth. The reason for the procedure is the determining factor when it comes to insurance coverage.
---
Can children receive cosmetic dental procedures?
Yes, in some cases children require cosmetic dental procedures. Whether there is noticeable damage to a tooth that needs to be repaired or a severe orthodontic issue that would improve the child's smile if corrected, children can benefit from cosmetic dentistry.
---
Do whitening treatments make your teeth sensitive?
Teeth whitening treatments use a powerful bleaching agent that removes stains and brightens the teeth. Some patients may experience mild sensitivity following a teeth whitening treatment. Many whitening systems include a tooth desensitizer, or your dentist may prescribe a sensitivity toothpaste to use following your whitening treatment.
---
How long does teeth whitening last?
Your results may last for a year or two, but it depends on a variety of factors. Applying regular touch-ups helps keep your teeth white for a longer period of time. Avoiding teeth-staining foods and beverages like coffee, tea, soft drinks, red wine, dark berries, and dark sauces can help your results last longer.
---
What are veneers?
Veneers are an option for improving the appearance of your teeth. They are thin, shell-like covers for your teeth. Veneers attach to the front side of your teeth to cover gaps, chips, discoloration, and any other imperfections. They help the teeth to appear uniform for a more aesthetically pleasing smile.
---
Is everyone eligible for cosmetic dentistry?
Not every patient is immediately eligible for cosmetic dentistry. If there are any oral or dental health concerns, such as cavities or gum disease, those problems must be corrected first. Once the teeth and mouth are healthy, cosmetic issues can be addressed.
---
Are dental implants a cosmetic procedure?

According to insurance companies, dental implants are considered to be a cosmetic procedure. However, they have many health benefits. A dental implant completely replaces a tooth, including the root. Dental implants can also be used as anchors for bridges and dentures. Their biggest benefit is that they are surgically placed in the jaw bone, which preserves the bone structure of the jaw. 
---